Florida Wedding Venues Offer the Picture Perfect Wedding Experience of a Lifetime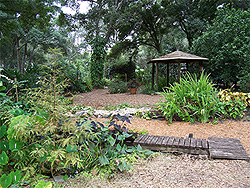 Harmony Gardens, Florida wedding venue gives loving couples the picture perfect wedding experience of a lifetime that captures the special moment. As one of the top Florida wedding venues, Harmony Gardens serenades the entire wedding party with endless year-round sunshine surrounded by the majestic beauty of lush tropical gardens that serve as the backdrop in an award-winning private estate that only a Florida wedding venue can offer.
With so many Florida wedding venues to choose from, planning a wedding is made easier when the venue can comfortably accommodate all of the guests for the ceremony and reception as well as gourmet dining and catering facilities.
Our prime central Florida location in Deleon Springs is just sixty miles north of Orlando International Airport and a short drive west of world-famous Daytona Beach. It is no wonder why Harmony Gardens is one of the top Florida wedding venues. Learn more.